UK Delivery options
!!Please Note : All ordes for Northen Ireland must include an XI EORI number . Please add this to your order or email it once the order has been placed. Without this we cannot accept the order.

Our despatch deadline is 11am. We must have your order and cleared payment no later than this time to ensure despatch of your goods.

Please Be Aware : Whilst we can, and do, deliver to a residential or home address please understand we use a business to business carrier, Pallex, and they do expect you to be there during normal opening hours to accept delivery (8am to 6pm) Monday to Friday. If you are not you may face additional charges to re-deliver goods. For Next Day delivery on cartons or pallet orders your order and payment must be with us and clear by 11am latest.

Pallet Delivery Services : We ffer a Next Day or 2-3 Day Economy service. There is no pallet tracking and whilst we are able to request a call 1 hour before but once again its only if the driver is able.

With the Economy service pallets can arrive at amytime within the 3 day period. If you need to know which day the pallet is due you must select the Next Day service and the order and clear payment needs to be with us by 11am the day before.

For a pallet delivery the carrier would drop the pallet from the van to kerbside with a tail lift, you are responsible to move it from there. The driver is not required to take a pallet into your premises, but most drivers will help if they can and have time to do so. (These are Pallex drivers not ours so we cannot instruct them to do any more)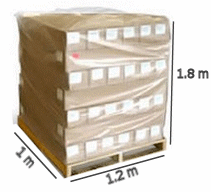 UK Pallet Delivery

England & Wales : Economy 2-3 day service £45, Next Day service £60 (Saturday Delivery £110 per standard pallet)

Scotland Central Belt : Economy 2-3 day service £45, Next Day £60

Scottish Highlands : Economy Delivery only £70 per pallet. (A1-56, DD, PH1-49, PA21-40, IV1-40, KW1-14)

Northern Ireland : Economy Service £100.00 per pallet (inc TSS charge) - We also now require your XI EORI number

Southern Ireland : Not Available

Should you not be at the delivery address when the pallet is delivered you will face an additional charge to redeliver due to the bulk of pallets and the costs involved.

UK Carton Delivery
Cartons are charged by the weight, at present the cost is £12.50 up to 20 kg and then .35p per kilo after. This is a England, Wales & Scotland (Central Belt) price and does not cover Northen Ireland (£32 up to 10KG) and £1.20 per kg after (2 Day Service), or Scottish Highlands.(see below)

Scottish Highlands can vary depending on the exact location but starts at £18.50 up to 10Kg. then 90p per KG after on a 2 day service. .

Please also note the maximum length of any carton is 1m

Carton service is an automatic Next Day delivery (apart from NI and Scottish Highlands) and is done with DPD. They will send a text or email with a one hour time slot so you will know when to expect your parcel. You are able to alter the time slot, details of how will be provided in the message you receive. Please Note some parts of Scottish Highlands are a two day service only.